Marketing to cultivate a brand's audience
Inbound Marketing
Setting Up
Advertising
KPIs
The Funnel
The Website

Welcome! Inbound marketing isn't for everyone. For small business, it isn't easy. There is already many things to handle. Getting the website up and running is a big win. Keeping everything rolling deserves several pats on the back every day. And then there is the question of growth. How can I take this operation from my home/office and give it to the world? How can I grow this into the heady stratospheres of conversion rates and ROI? If your website is a brochure then marketing is distribution. Get it out there. Of course, a website is so much more than a brochure…
Without promotion something terrible happens…

nothing!

P.T. Barnum
This is the start of a long journey with marketing. I am happy to help out. Just contact me.
Fortunately there are a number of things we can do in digital marketing before we start spending on paid ad campaigns. That is what I am dedicating this course to. I will reveal what we must do to get the best results – without paying out too much of our hard earned cash upfront, and then only using paid ads when we are ready and prepared to analyse, update and iterate.
What is Inbound Marketing?
Digital Marketing has merged into a field known as Inbound Marketing. The philosophy of Inbound is that a business does not advertise by placing ads in front of potential customers. Instead, they provide great content that leads customers in ( in one example a PDF or handy reference in exchange for their email). Once engaged, instead of giving the hard sell, the whole purpose of Inbound is to give great support, great advice and build in clients trust in your abilities. You effectively lead customers through the marketing funnel to the cart and they love it.
Because this is a small business marketing course, I am not going to focus heavily on "Big Ticket" items (items worth several thousands of dollars). . With regular small ticket ecommerce items, the funnel is shorter, but often the research phase is stringent.
Regardless of which, there are certain things that are going to work in your favour. Make sure you create these accounts SOONER rather than LATER. We will go through the setup as we work through the course.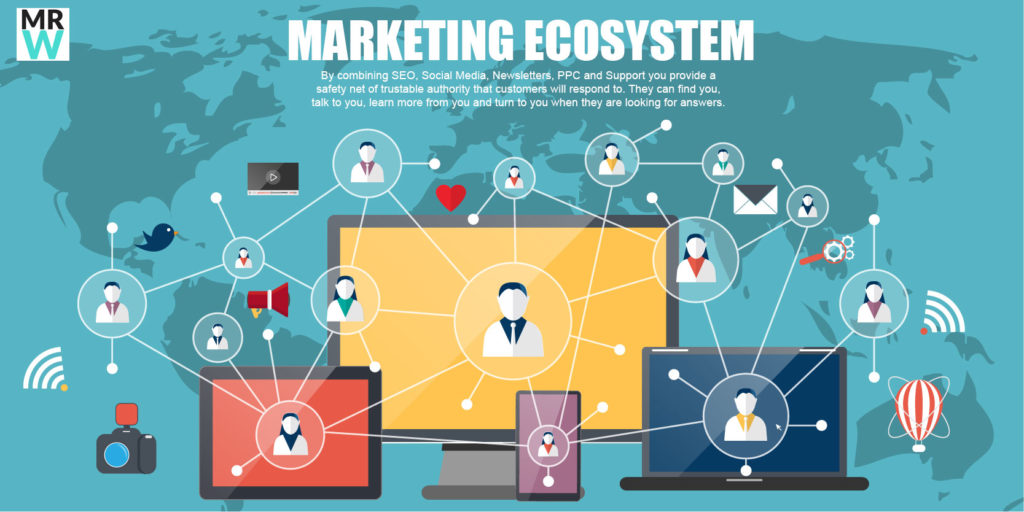 Basic setup for digital marketing
Have a website. This is your first marketing tool.
You must have SSL on your website. Without it your browser may warn visitors away, and you may suffer badly on Search Engine Results. (Why you need SSL from July 2018)
It must be of a decent speed, and by compatible with mobile phone screens. (Why your site needs to be fast)
Optimise your SEO. This is not a set once and leave it forever. Be prepared to occasionally update your SEO as algorithms change over time. SEO includes:

your buyer persona (s)
keyword research
competitor research
onsite optimisation
offsite optimisation

Some businesses go well with a blog. It is an effective, but gradual marketing tool. It is a major SEO winner. A blog pulls double duties – updating the website and bring fresh content for search engines and serving as an authority amplifier in your field. Be sure to promote every blog post across all channels.
Email marketing tool like Mailchimp, Drip, Sendy or ConstantContact. Make sure your subscription form on your site goes to a list in Mailchimp.
GMB – Google My Business
GSC – Google Search Console connected to..
GA – Google Analytics
Facebook Business Page
Facebook Pixel (especially if you have an online store)
Lead magnet: I want you to think about what can you offer a potential customer that they would appreciate well enough to swap you their email to get it. In your arsenal of valuable resources, what is there that you can afford to let your customers get straight up?

Please be mindful this list does not include specific requirements for your business eg – you are in fashion – you must have an Instagram account. If you are in tech or B2B – you must set up your LinkedIn business page.
Where does advertising come in?
Once you have got all your ducks in a row, if you want to crank it up a notch, you can begin some paid campaigns (PPC). PPC using Google Enhanced Ecommerce or Facebook Pixel is a highly targeted method of serving advertisements.
A note on privacy
The European Union introduced the GDPR privacy laws (see how GDPR applies to Australian business), to protect "big data" from misusing information. The real world result of this is that all businesses that serve European clients must give those clients access to the information that is stored on them, and that any information or actions that that information relates to is transparent. Also, that the client has the right to have their personal information removed without any loss in the quality of service. Please don't take my word for it. Look it up instead.
SSL also has implications when using advertising. Analytic results can be skewed because SSL obscures search terms. For this reason, your most reliable tracking is through campaigns where you manually insert URL parameters that track a users progress.
KPIs drive the online business setup
Nothing happens in vacuum. The most important document for a business is the Business Plan. Everything that happens online is a reflection of this document. The KPI's that are laid out in the business plan give your online actions purpose. Everything makes sense. It is easy to be distracted online. You start a task, and 2 weeks later (or 2 minutes!) you have lost your focus for what that task was. Always refer back to the KPI's and their task break-down. This will help you define what your conversions should be, and therefor what your tasks are.
Convert KPI's into a functional funnel?
A marketing funnel is how you nurture customers from being a face in the crowd, to a lead, to a conversion (and then, maybe to repeat buyer, and then to brand ambassador!)
Top of the funnel (TOFU). These people are the least engaged. Social Media, Search. The real world analoge is foot traffic past the front door. They are still important, as they are the first filter for people finding you. e.g.
Comments
Shares
Searches
Likes / Follows
Middle of the Funnel (MOFU) The success of TOFU funnel makes these potential customers that can be nurtured. These people are interested, possibly with an intent to buy. e.g.
Landing page visits
Newsletter click-through
Free Subscribers

Bottom of the funnel (BOFU) Conversions can be any number of planned results that forward your KPI's. These are where the rubber meets the road in your meeting your businesses needs. e.g
How to put the funnel to work?
If the KPI's are to get more sales, be mindful that you want to customise the funnel to talk to your buyer personas. You also want to address where they are in the funnel. Are they vaguely interested? or deeply interested and doing researc? or already researched and ready to buy?
You may only want to address clients / customers that are ready to buy (BOFU). Retargeting campaigns (often PPC) that target previous buyers could be useful.
If you want to lead more people into being ready to buy, you would be focussed on MOFU people – they already know what they want. Focus on that. Optimise your subscribe landing pages and post a subscribe lead. Let the newsletter campaign be your authority amplifier. These people will be ready for your retargeting campaign next.
What are websites now?
Now we have evolved past just having a website, we can dispense with the "brochure" analogy for websites, and instead we can look at an ecosystem. An ecosystem is : a group of interconnected elements, formed by the interaction of a community with it's environment. In this case, you provide access to the environment that your clients / customers interact with and are supported and nurtured. Ultimately, you are providing the service of helping your customer reach their goal – which if your funnel filters correctly – is a fit for your goal.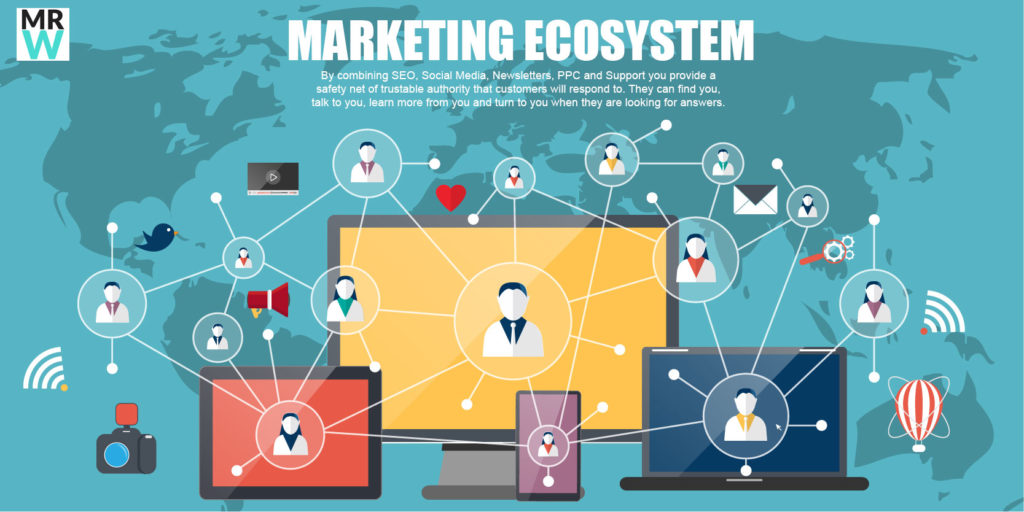 You can see how you use your website as a marketing tool. Combined with your mastery of SEO, Email Campaigns Social Media and PPC you create several cycles of information and engagement that
Engage as many people as possible
Filter the traffic into more interested potential leads
Engage and impress your leads with authority
Covert leads
Support converted leads
Convert them again (repeat 5-6 in a cycle of good-will and support)
Items 5 and 6 are based on the principal that repeat customers are profitable.
Where to next?
As you can see, Digital Marketing has many facets. Each facet connects with the next. A complete system can function almost on automatic, repeatedly over time.
This complete system is the holy grail of Inbound Marketing. It takes away the stress of wondering where your customers are coming from, and instead focusses your energy where it does the most use – engaging interested, ready to buy people who are more likely to convert.