Promote your offering effectively
Digital Marketing is a wide, varied skillset. Fortunately it has been alive long enough for small businesses – who are looking for accessible methods – to boil it down to 2 key platforms – Facebook and Google, combined with your SEO and website.
Google My Business
Rank #1 for your brand.
Create or claim your Google My Business page. You will be sent a postcard and you will have to verify your claim to the page. It usually takes a little under a week.
Complete the information updates available including
Opening Hours
Services and Products
Photos
Website
Once you have completed these, your Google My Business Listing will start showing up on Google searches. You can start to take reviews and over time your web search presence will improve for your brand.
Hot tip: Give yourself a 5 star review to start out with a 5 star business.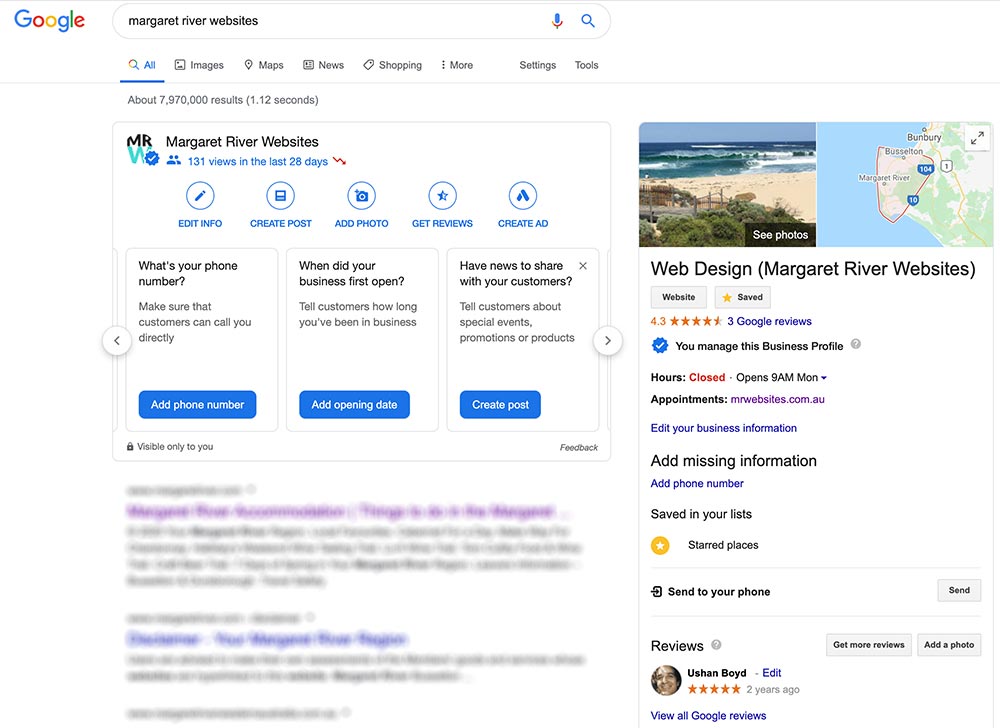 Google Analytics
Google Analytics is the industry bench-mark for tracking users on your website. It is very useful for tracking conversions and lead creation such as:
Selling products
Bookings
Contact forms submissions
Gauging interest in various pages
Understanding the flow of users through the website
Entrance and Exit pages
Hard bounces leaving the same page people enter from
Demographics of users
And much more
Google Analytics is the industry standard for gauging your websites effectiveness. Combined with an iterative approach to web pages, where analysis and web site changes work hand in glove, your website will gain in effectiveness over time. It also allows business owners to understand who their Buyer Personas are, what time they are engaging with their brand, and where they come to the website from. It is a very powerful tool.
Setting up goals in Google Analytics is important in order to track campaign effectiveness. Ask me about setting up your goals.
Google Search Console
Google Search Console gives you notifications on whether pages are optimised correctly for mobile and search. Additionally you can see which terms are performing best, and which keywords your site is showing up for. Combined with some careful keyword and competitor research, this is a powerful tool to place yourself square in the path of potential clients and customers.
Facebook Pages
Facebook Business Pages includes Instagram in it's scope, as when you master the Facebook Business Page interface, you can easily serve ads to Instagram as well. But there is much you can do for free with Business Pages, from simply having a presence that people can find, to building up a strong following and using and becoming an influencer, with all that entails. And the secret? Just BE SOCIAL! On the network, when you are posting, make sure you take the time to notice, comment and share other content form like brands that will bolster your own brand.
Facebook Pixel
Facebook Pixel is a bit like Google Analytics, but for Facebook and Instagram ads and tracking. It uses peoples logged in status on browsers to track which websites they interact with. Like the Google Ad Network, it makes remarketing to Abandoned Cart users and leads very easy – by posting content to their feed or their margins inside the Facebook app or website. It also has very good demographic insights and hour of the day engagement analytics.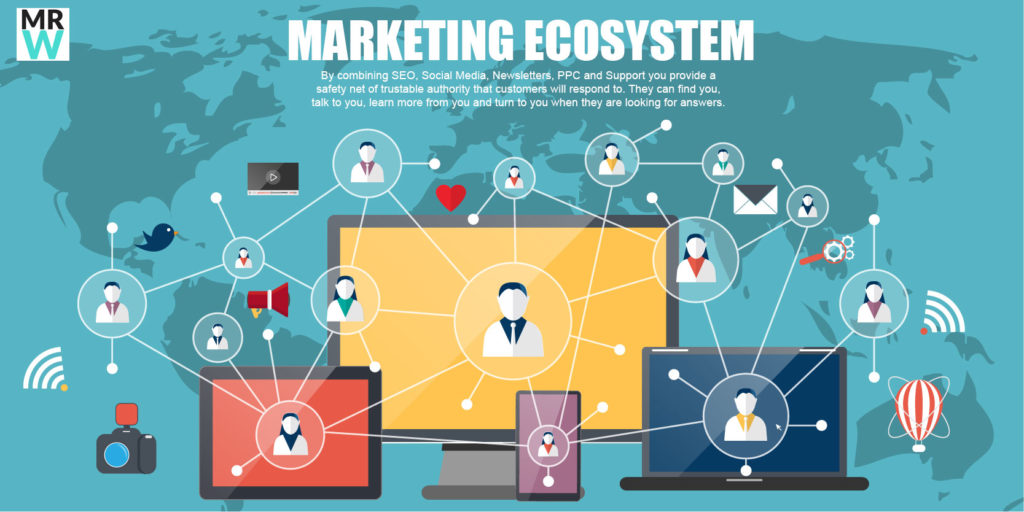 Special mention: Mailchimp
When I say Mailchimp, what I really mean is Electronic Direct Messaging or Email Campaigns. Your subscribe list, leveraged properly, is one of your greatest assets. Think about it. These are people who have encountered your brand at least once. They trust you enough to give you something special – their email. They are asking you to keep them up to date. They are virtually waiting for a well crafted email to land in their mail program, so they can have a read and see what you are up to. You can then lead these willing participants into the journey of your brand, educate them on the awesomeness of your offering and convert them to a buying customer, or better yet a repeat customer.
My hot tip for email campaigns is pretty simple. Have just one Call-to-Action per email. Keep it simple and to the point. That way you can track the effectiveness of email layouts, without a lot of variables watering down your results. It also helps you get really clear about what your primary Call-to-Action is going to be. Excellent!
Special mention: Hotjar
Hotjar deserves a special mention. They have a free service and provide a couple of really useful tools.
A heatmap of a given page – put in the url and Hotjar will record where users click and use that page in a heatmap – where red is hot and blue is cold. It is a very informative method for understadning how users are engaging with a given web page.
User recordings. The free version of Hotjar lets you record 100 user interactions with your site. You can see by which recordings are taken where the majority of interactions are, and you can also see how users actually navigate and engage with the website. It records movements from page to page, clicks and scroll, so it is quite revealing into the behaviours your website encourages.
Digital Marketing can be encapsulated in the services we have discussed here. Other brands also offer versions of these services, but I believe we have covered the core aspects. There are other aspects to digital marketing – SEO and website performance. These are also very important, and warrant attention as well.
Special mention: Answer The Public
Answer the Public is a great tool that you can use to find out more about your Buyer Personas. It works by gathering the Autocomplete Suggestions from search engines like Google. This aggregates into trends that you can accessing by querying a search in your field of interest. Answer the Public enables you to explore questions and problems around your target market. While not a replacement for direct surveys, it is a great supplementary tool, and because the search volumes are so large, can give you some great sweeping insights into your queries.